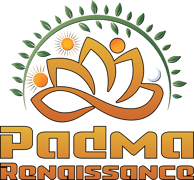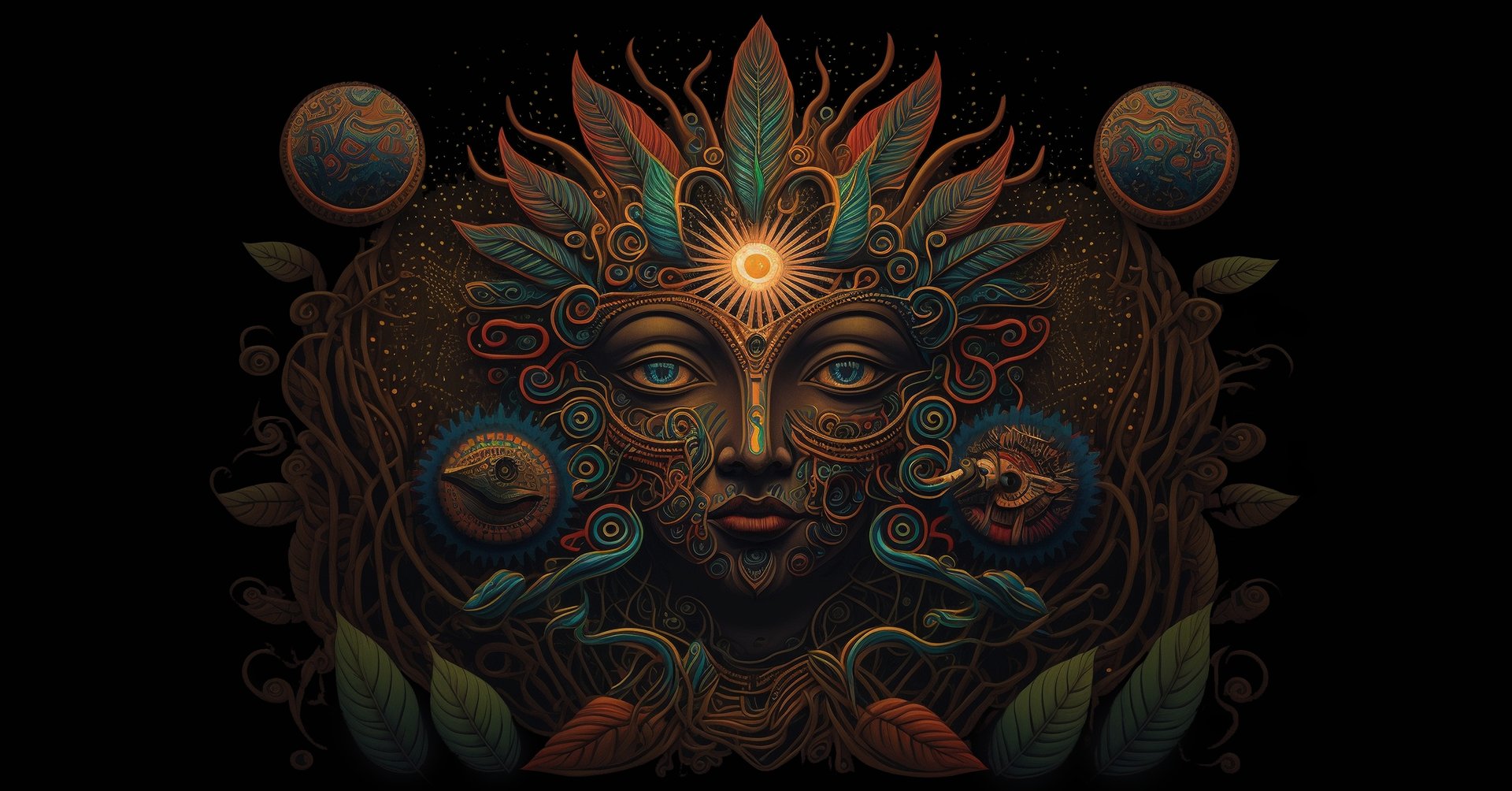 Padma Renaissance Tribe & Ohm club Lugano present:
█▐ SPECTRAL FREQUENCIES▐ █
🎃╬ The Halloween ritual ╬🎃
🎃🎉 Hai piani per Halloween? Unisciti a noi in una notte indimenticabile di musica e festa al rituale Psytrance di Halloween. 🚀🔊 Sarà una serata esplosiva con un ospite internazionale di grande calibro: Avalon 💥 Pronto a farci danzare fino all'alba con i suoi ritmi psichedelici. 🌌🎶
Non puoi assolutamente perdere l'opportunità di vivere l'atmosfera unica di Halloween nel club più underground di Lugano. 🌙✨
Assicurati il ticket ora e preparati a un'esperienza indimenticabile! 🎟️🎃
💀 Deco & lights: Cosmic Tools & Padma Renaissance Tribe.
💀 Video Mapping: Visual Ray.
💀 Halloween Dresscode - 𝘥𝘶𝘳𝘢𝘯𝘵𝘦 𝘭𝘢 𝘴𝘦𝘳𝘢𝘵𝘢 𝘷𝘦𝘳𝘳𝘢̀ 𝘱𝘳𝘦𝘮𝘪𝘢𝘵𝘰 𝘪𝘭 𝘤𝘰𝘴𝘵𝘶𝘮𝘦 𝘱𝘪𝘶̀ 𝘣𝘦𝘭𝘭𝘰.
𝗠𝗔𝗜𝗡 𝗦𝗧𝗔𝗚𝗘 𝗔𝗥𝗧𝗜𝗦𝗧𝗦
╬ SPECIAL GUEST ╬
🎃 AVALON 🇬🇧 𝘭𝘪𝘷𝘦 🎃
🕸️ Ilai 🇮🇹 𝘭𝘪𝘷𝘦
🕸️ Amnesia HQ 🇮🇹
🕸️ Armonix 🇨🇭
🕸️ Mindwheel 🇮🇹
🕸️ Pinch🇨🇭
𝗖𝗛𝗜𝗟𝗟𝗢𝗨𝗧 𝗦𝗧𝗔𝗚𝗘 𝗔𝗥𝗧𝗜𝗦𝗧𝗦
🕸️ Armonix🇨🇭
🕸️ Astralviz🇨🇭
🕸️ Hervè🇨🇭
𝗢𝗧𝗛𝗘𝗥 𝗜𝗡𝗙𝗢
𝗣𝗿𝗶𝗰𝗲
At the door: 30 CHF
Early bird: 15 CHF (limited)
Presale: 25 CHF
𝗟𝗼𝗰𝗮𝘁𝗶𝗼𝗻
Ohm Club Lugano
Via Trevano 89A
6900 Lugano
https://www.ohmlugano.com/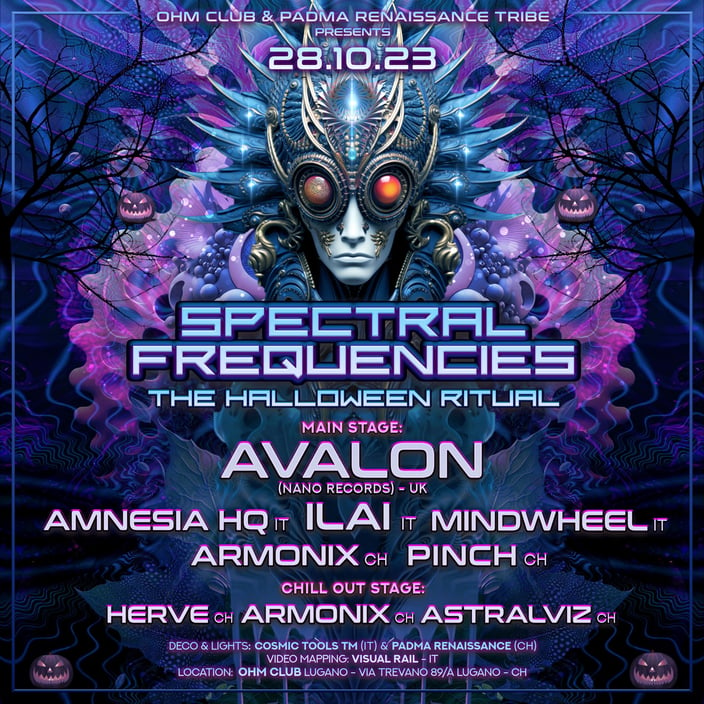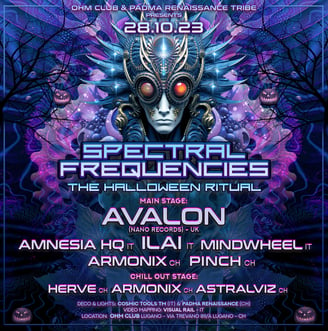 Spectral Frequencies
28.10.23 - Ohm club Lugano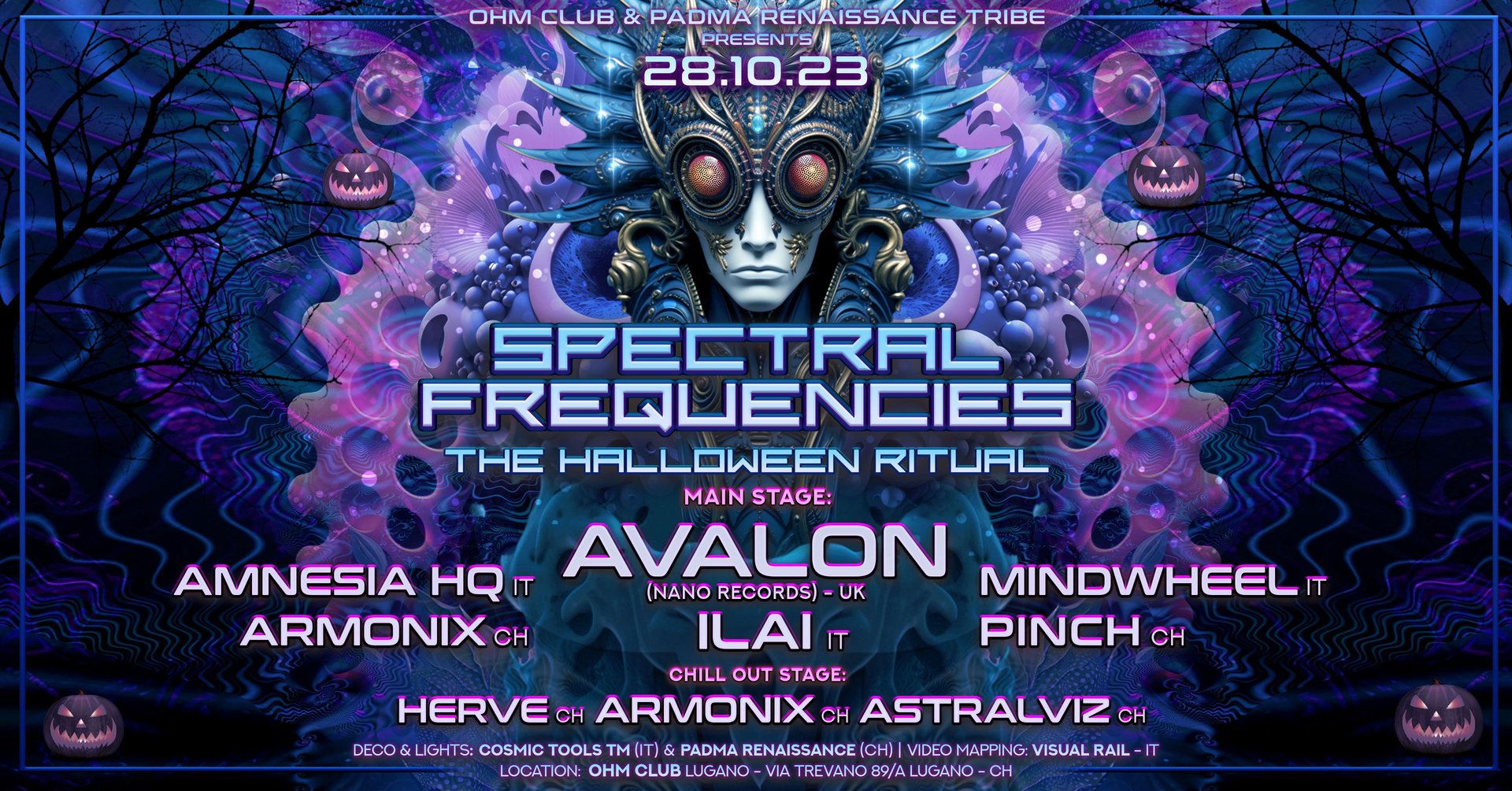 2022 • MARCH-MAY • EUROPE
Join us across the top live venues around Europe to relive the Anhedonia album's gritty realities first-hand.
They say it's not about the journey, but what if you lose your way along the way?
2021, York, Studio WOW, Producer: Kid Jones.